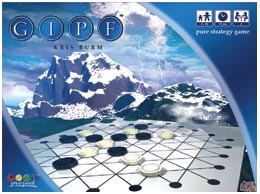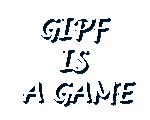 GIPF is a strategic game for two players based on a classic concept: in turns, players introduce one piece into play until achieving four-in-a-row. Players then remove their row and capture any of their opponent's pieces which extend that row. This principle of capturing pieces creates each time again completely changes situations on the board. The purpose is to form successive rows of at least 4 pieces, until the opponent has no piece left to bring into play or (in the standard and tournament version) when he has no more GIPF-pieces on the board.
GIPF is a pure and challenging game that combines classic systems with completely new elements. Full of surprises and offering unlimited possibilities, it will appeal to occasional players as well as to fanatic gamers.



Some of the words about GIPF...
Kerry Handscomb in ABSTRACT GAMES 1 (CAN)
"GIPF is a superb, well-balanced game."

Ken Tidwell in THE GAME CABINET (USA):
"GIPF has rapidly rocketed to being our number one favorite two player game."

Dietert Bernaers in HET BELANG VAN LIMBURG (B):
"The needle in the haystack!"

Christwart Conrad in PÖPPEL-REVUE (D):
"GIPF ist gleichermassen originell wie spannend."

Pascal Deru in LE LIGEUR (B):
"Un jeu qui mélange des genres tout en innovant."

Steve Kurzban in GAMERS ALLIANCE (USA):
"GIPF illustrates how to get the maximum out of the minimum. It really is an exceptional game of abstract strategy."

In GÖPPINGER WOCHENBLATT (D):
"Absolute Spitze."

Chris Baylis in GAMES GAZETTE (UK):
"GIPF is a 2-player game that ranks with the best."

ADAM SPIELT (D):
"Ein Hochkaräter."

Ben Baldanza in THE GAME REPORT (USA):
"It only takes a few games to see that GIPF stands tall above many of its peers. It is exactly what a two-player game should be. Highly recommended! "

Edwin Ruschitzka in SPIELBOX (D):
"Das Spiel könnte für all jene, die abstrakte Taktikspiele mögen, ein Klassiker werden. GIPF, und da braucht er keiner prophetischen Weissagung, hat das Zeug dazu. Tatsächlich ein herausragendes Taktikspiel."


If you want to read more, then click on Reviews in the menu.